Description
Nevaton MC420 – Large Membrane Condenser Microphone
NEW – With the new heated capsule this microphone now also works in extreme climatic conditions like f.e. high humidity or very low temperatures (down to -30 degrees)!
The MC420 is a Studio Condenser Microphone in a classic design. Reduced to the essentials and without compromise in quality. The fabulous Nevaton sound for smaller budgets. A great microphone for vocals and acoustic instruments. The Nevaton MC420 shares the same capsule with the famous Nevaton MC51.
 Acoustic features and construction
The MC420 is a high quality large diaphragm studio microphone, which has a quite linear sensitivity characteristic over the entire audio-frequency range. It is produced either with wide cardioid, cardioid, omnidirectional or figure-8 characteristics. The MC420 is equipped with a large diaphragm capsule, the same capsule which is used in the successful Nevaton MC 51.
NEW – It comes with a low-cut filter in three positions – linear- 70Hz, or 120 Hz.
The MC420 has a very low self-noise level (7 dB-A) and a natural, clean, warm and revealing sound which delivers transparent trebles, clear midrange and very natural bass. The transducer, a 24 mm diaphragm symmetric pressure gradient sensor, is ultra-thin and gold-sputtered and has passed a special artificial ageing process to guarantee the stability of its parameters. The transducer is mounted on a damper, essentially lowering eventual vibrational noise level. The microphone is capable of handling sound pressure levels up to 144 dB without distortion.
Electrical features
The amplifier is built to the class-A transformerless standard. All used input transistors pass a special selection to guarantee minimal self-noise levels. The microphone operates on 48V phantom power. A gold-plated XLR-connector is used as an output-connector.
Stereo pair
On special order, we deliver this microphone as matched stereo pair. Matched stereo-pairs benefit from the advanced measuring facilities, of the Nevaton acoustic laboratories.
Operational safety
The microphone`s body is made of brass with a dark-grey non-reflective paint finish on an epoxy base. This makes it inherently immune to mechanical and atmospheric influences. A three-layer metallic grill effectively protects the transducers from mechanical impacts and influences. The transducer's head is mounted on an elastic suspension to cut off vibrational and handling noise. This technology makes them immune to electrical and atmospheric interference and contamination through microscopic dust particles and makes it also suitable for off-studio applications.
The microphone is supplied in a fine wooden box.
A top-class condenser microphone, hand assembled in the factory in St.Petersburg and carefully tested in Nevaton`s acoustic laboratories, which can compete with top European microphones, while being affordable.
Freq Charts (click to enlarge)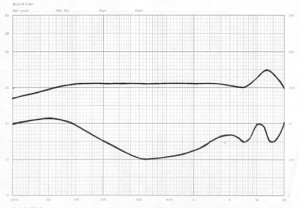 cardioid
NEVATON MC420 – Technical Data
| | |
| --- | --- |
| Acoustic operating principle | Pressure gradient transducer |
| | |
| | fixed cardioid, wide cardioid, fig-8 or omni) |
| | |
| Free Field Sensitivity at 1000 Hz and 1000 Ω | |
| Equivalent SPL DIN/IEC 651 | |
| Max. Sound Pressure Level [for THD 0,5% ] | |
| | |
| Nominal Impedance | 3 positions – linear, 70Hz, 120Hz |
| Recommended Load Impedance | |
| | |
| | |
| | |
| | |
| | |
| | |
| | |
| | pin1: ground, pin2:phase(+), pin3:phase(-) |