Description
MULTI-PATTERN & MULTICHANNEL SURROUND MICROPHONE
Prize-winner of WINTER NAMM 2013 ProSoundNetwork Best Of Show Awards
The MC50-Quad is a dual-capsule large-diaphragm condenser with separate outputs for each of the four diaphragms. Available patterns are – Omni, Cardioid, Figure-8 (or any intermediate mono pattern), XY-stereo, Blumlein, or MS. Two large diaphragm capsules with four membranes at the same spot. This guarantees a perfect quad-stereo-mono compatibility and avoids common interference problems when used for Surround-Sound 5.1!
The NEVATON circuit design provides a high dynamic range of 138 dB, with an extraordinarily low self-noise of 4dBA! This makes the MC50 one of the "lowest noise microphones" on the market!
The current consumption of the amplifier is used to heat the capsules, which makes it possible to use the MC50 in extreme climate conditions, like very high humidity, or temperatures of down to – 30 degrees!
The MC 50 is the ultimate microphone for the recording of stereophonic and multichannel surround formats!
The MC50-Quad has a transformerless circuit design, with no electrolytic capacitors in the audio path. The impedance circuitry is comprised of matched ultra-low-noise transistors, film capacitors, and "military grade" resistors. The microphone has four separate circuits, one for each capsule diaphragm.
The Nevaton MC 50 QUAD has a 2-position low-cut filter (linear, 70Hz) and a -10dB switch.
Both are under the mic-body, which can be easily removed to access the switches.
The microphone is immune against any radio interference!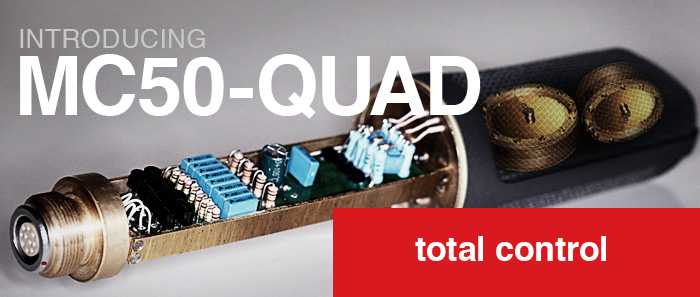 The Nevaton MC50 was rewarded with the PSN NAMM Best of Show 2013 award.

The MC50 offers the following modes:
SURROUND RECORDING modes –
# Double MS #QUAD
-> In Double MS-Mode the microphone has to be slightly turned, that the upper capsule (Out-2) will directly face the main sound-source.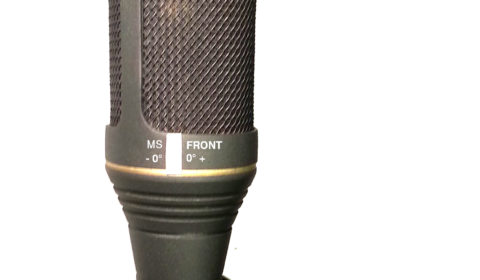 STEREO-RECORDING modes –
# XY # MID-SIDE # BLUMLEIN STEREO
In MS-Mode the microphone has to be slightly turned, that the upper capsule (Out-2) will directly face the main sound-source.
The MC50 is also a fabulous mono microphone. Use any of the capsules to record single mono sources. No matter if you are using the MC50 as a mono, or as a stereo microphone you can always fine-adjust mic-patterns to make sure that they fit your exact needs – from omnidirectional to wide cardioid to figure-8 to super-cardioid with ANY STEP IN BETWEEN.
Check the following modes which are available for each of the two double diaphragm capsules.
You can remote-control your microphone-patterns with your mixing desk!
The Nevaton MC50 microphone comes in a fine hardwood-box.
A three meter long four channel cable is part of the set.
As a wind-shield f.e. a Rycote 080203 is a good fit.
NEVATON MC50 – Technical Data
Operation modes/Directional patterns

Mono, XY stereo, Blumlein stereo, Mid-side stereo, Quad & EVERYTHING IN-BETWEEN

Free Field Sensitivity at 1000 Hz and 1000 Ω

Equivalent SPL DIN/IEC 651

Max. Sound Pressure Level [for THD 0,35% ]

Recommended Load Impedance

Heated capsules, to work in conditions of down to -30 degrees and in environments with extreme humidity

Connector Type (3 meter cable is part of the set)

10-pin XLR-type, to 4x 3-pin XLR standard

Out 1 = L  –   XLR-white (bottom capsule)
Out 2 = R –   XLR-red (top capsule)
Out 3 = LS – XLR-brown (top capsule),
Out 4 = LR – XLR-black (bottom capsule)